5 Reasons to Own a Transfer Cable.
Transfer cable, What's so fascinating about data transfer cables? They transfer data from an old computer to a new computer. Yea, exciting, I know. But if you only knew how many people have paid me, Kenny McCormick of Keltic Fish, hundreds of dollars to do this simple transfer, you would understand why I find transfer cables a fascinating subject. You should too.
Here's Why: the 5 Reasons
1. It saves lots of cash when you know how to use it yourself.
2. It's reusable, so it's a one-time expense that you don't have to pay a professional every time.
3. The cable is faster than manually transferring using USB drives.
4. It's a direct connection from one computer to another, so it is secure.
5. Easy to follow directions so that a newbie can transfer data from one computer to another.
This year I was introduced to a fantastic product by Plugable that I'd like to share with you. It's a USB 3.0 transfer cable (available on Amazon at (https://amzn.to/3pEW2x6). This device easily, accurately, and safely transfers data from one computer to another.
Transfer Cable available at https://amzn.to/3pEW2x6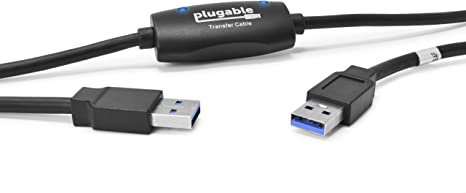 Fear Stops People—That's When My Phone Rings
Many people fear computers for several reasons. They don't know much about the system's internal workings, and they fear damaging them. When they want their data, they aren't sure how it's stored and worry about erasing it. Another reason people fear working on their computers is that they think they can't. It's that simple. Fear blocks many people from learning and doing their computer tasks, which is why I'm sharing information with you today. You don't have to be afraid. Simple tasks, such as transferring data from one computer to another, are easy enough to do with the right equipment.
Here are a few things you need to know:
The transfer cable will help you transfer documents, music, pictures, and other files.
Will not transfer installed software packages; you will need the installation software and product codes.
The cable is compatible with Windows XP, Windows Vista, Windows 7, Windows 8, Windows 10, and Windows 11.
You cannot perform transfers on a computer that is not in an operational state (i.e., safe mode or blue screened); however, that is where I come in! If you need me to call (775) 996-3761.
Feel the Fear and Do It Anyway
Below I'm going to walk you, yes you, through a step-by-step process, so you too can transfer your data from an old computer to a new one. And DON'T WORRY—here's my number in case you get terrified: (775) 996-3761. Yes, you can call me; everyone who knows me does. I'm that kind of tech guy. I will help you.
Find your old software (Microsoft Office, Solitaire, Doom, etc.)
Install Easy Computer Sync software (either from disk or online (https://plugable.com/pages/usb-easy-transfer-cable-software)) on your old computer.
Make sure you follow the wizard.
Enter your Product Key, located on the cable. They are Zeros, not the letter "o."
Recommend that you restart your computer.
Repeat the process on your new computer.
Now plug the Plugable Transfer Cable into both computers.
On both computers, open the "Easy Computer Sync" software program.
Click the "Transfer Data to New Computer" option. This will COPY your old data and settings to your new computer and not waste your time moving files from your new to old.
Follow the wizard.
Click Exit when it is complete.
Now the fun part! Double-check the transfer and that your essential files were transferred.
If you have any questions, feel free to call Keltic Fish at (775) 996-3761 anytime. We are located at 9410 Prototype Dr. Suite 19 Reno, NV 89521, and open 9 AM to 5 PM Monday through Friday.